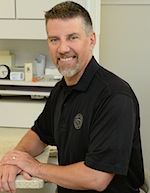 Dr. William J. Hall
Degree 1994: DDS
Member of ADA, MD State Dental Association, Frederick County Dental Society
Hello. My name is Dr. Bill Hall, and I would like to take this opportunity to introduce myself. I have been a resident of Frederick County since 1975. I grew up and still reside in the Mt. Airy area. My alma maters include: St. John's at Prospect Hall for high school and UMBC. I received a BA in Biology while at UMBC, and it is where I found my interest in Dentistry. After graduating with honors in 1994 from the Baltimore College of Dental Surgery, I entered into practice with Dr. Gerry McGreevy, an established Frederick dentist for over 30 years. I bought the practice in 2002 after working for Dr. McGreevy as an associate for eight years.
I enjoy many passions and have even been accused of being a serial hobbiest. I have been an avid golfer, sailor, bicyclist, musician, and wine enthusiast to name a few. My latest passion is finding the freedom of the open road on my Harley. My zest for life is beyond compare, and this energy resonates through my dental practice.
The underlying goal of my practice is always do what is best for the patient. This does not always mean the most expensive state of the art treatment, but it means the most efficient, appropriate treatment that fits the patient's goals, desires, and needs.
My wife Laura, a retired physical therapist, now a Certified Life Coach, shares my passion for life. I have two wonderful daughters. Kayla is at Towson University following her love of the healing arts and studying to be a nurse. Helena is an Acrobatic Gymnast who travels the world on an international Acrobatic Club Team.
I look forward to welcoming you to our family of patients!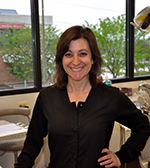 Laura
Dental Assistant
I am Dr. Hall's chairside assistant, as well as his wife. I started in the dental field in 2016. My college degree is in physical therapy. I worked in that field from 1989 to 2003. From 2003 to 2016 I stayed at home with our 2 girls. During this time I also became certified as a life coach. In my role as dental assistant, I bring all of these skill sets to the table. I work to increase the entire dental procedure and help to provide a comfortable and enjoyable experience for the patient.
Patients at our practice know that we respect their schedules. We are not the type of office that leaves you sitting in the waiting room long past your appointment. Being a small practice, we are able to focus on one patient at a time. I love working alongside my husband. He is an honest, conservative dentist who takes pride in his work. The other day, someone called us "the dynamic duo". I love that title!
The best part of my job is helping people smile and helping them feel comfortable in the dentist chair.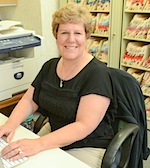 Denise - Office Manager
Office Manager
I have worked in the dental field since 1980. I have been the office manager here since 1998. In my position, I schedule patients, take care of insurance claims, help explain different procedures, and I help patients with questions about insurance. Most likely, it will be my voice you hear when you call our office. Most importantly, I try to make sure that everyone who comes in the office is put at ease so their visit is a happy one. The patients are the best part of my job!
Our patients like the fact that we are a small practice and they are not just a number. They like when we remember different things that they have told us. They are not just patients, they are friends.
Dr. Hall is very caring and concerned about his patients dental health. When he does a procedure, he does it as if he was working on himself. He is not the kind of doctor that will push a treatment that a patient doesn't need. He is a very conservative dentist.
I enjoy working for Dr. Hall because he understands how to balance work and family. When a family emergency comes up for me or one of the other staff members, Dr. Hall is always very understanding. He is very easy going and I would describe the staff as a happy family. I have tremendous respect for Dr. Hall and the work he does.
Outside of the office, I love my home life and spending time with my whole family. I believe that there is not much to life if you don't have family. I enjoy doing crafts, and one of these days I am going to finish my quilt. When I have down time, which is not often, I love to read. I also enjoy cooking and baking.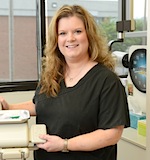 Melissa
Dental Hygienist
I have been Dr. Hall's hygienist since 1997. My job is to provide you with dental prophylaxis – you probably call this a cleaning, as well as instruct you on oral hygiene.
Our office has a very welcoming atmosphere. I notice that patients really like that they see the same employess at each visit because we have all been here for a while. Our patients know us and we know them. I love becoming familiar with my patients and making them feel comfortable in the dental chair.
Dr. Hall is an honest, family-oriented man. He does excellent dentistry and takes pride in his work. He is very up front with patients about their treatment. As a conservative family dentist, he doesn't push patients to have work done unless he feels it is necessary. Dr. Hall is very easy going and allows me to do my job independently.
I graduated from Allegany Community College in 1996. I live in Keedysville with my husband and two young children, Shane and Nora. We enjoy spending time with our large extended family and traveling.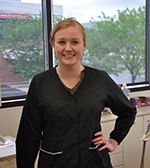 Mandy
Dental Hygienist
I have been a hygienist with Dr. Hall since 2014. I graduated as a Registered Dental Hygienist from Fortis College of Landover, Maryland. I enjoyed what I was doing so much that I expanded my skills and acquired a license for Local Anesthesia. I provide tailored care for each patient and love my job. I look forward to meeting you at Dr. Hall's practice.
In my spare time, I enjoy spending quality time with my Fiancé Eric and our two cats, Walter and Tator Tot. I also love shopping, the beach and making crafts.